Express Dispatch
Australian Owned & Operated
Money Back Guarantee
Quality Assured Products
Taulman 645 Nylon
Features of Taulman 645 3D printing material
645 Nylon Co-Polymer consists of the purest form of a delta transition of Nylon 6/9, Nylon 6 and Nylon 6T with a crystallinity optimization process in addition to post processing for maximum bonding during a thermal transition (3D Printing).
Construction = From granule form through nylon extruding systems to a 12 station extrusion to draw, 4 chiller loops with 2 post processing stations to a final draw of 3mm or 1.75mm round line.
Processing base purity = maximum available with current base chemistry.
Processing additives = none
UV inhibitor additives = none – reduced susceptibility based on optical clarity/reflection.
Flame Retardant additives = none
Expected Tensile Strength, Yield = 16,533 psi
Expected Elongation at Break =120 %
Melt temperature = 194C Print Temperature = 230C – 265C
Pyrolysis Temperature = 330C
Crystallinity optimization = maximum allowable to a 50% tear/ 50% break (when printed)
Expected Optical Properties = true reflective, true absorption, optically correct for cylindrical thread/line.
Expected Opacity = <5% - currently unmeasured
Current 3D printing usage
NOTE: Current 645 measures 1.76mm to 1.83mm dia in a slightly oval shape due to the draw and cooling process. The line cross-section is constant, however users should make a slight adjustment to their "Material Dia" (1.78mm - 1.80mm) settings to accommodate this slight variance.
Speed - 645 has a slightly higher viscosity than other printing materials. As the layer height exceeds 50% of the nozzle dia, printing speed should be adjusted downward ~10% - 20%
Retraction - again, due to a slightly higher viscosity, the retraction distance may need to be lengthened.
Excessive bubbles in the printed thread are an indication of a higher than required print temperature. Reducing Print temperature below 238 will result in less thread opacity due to recombination with the atmosphere, however this will also reduce bonding in layers exceeding 25% of nozzle dia.
Shrinkage is equal to ABS and can be controlled using garolite (LE) as a print table cover/plate Heated beds help just as they do for printing with ABS Printing a larger amount of material for the first layer of a print on garolite will make the printed part extremely difficult to remove. While printing with a higher infill percentage will make a stronger part, it is probably not required. When we exceed 50% fill, it no longer provides any noticeable benefits other than optical.
645 Contains

NO

toxic chemicals.
As with all 3D Printing using heated polymers, Caution should be used so as NOT to come into contact with the molten 645 (194C+) as it will adhere to ALL cellulose surfaces, including skin.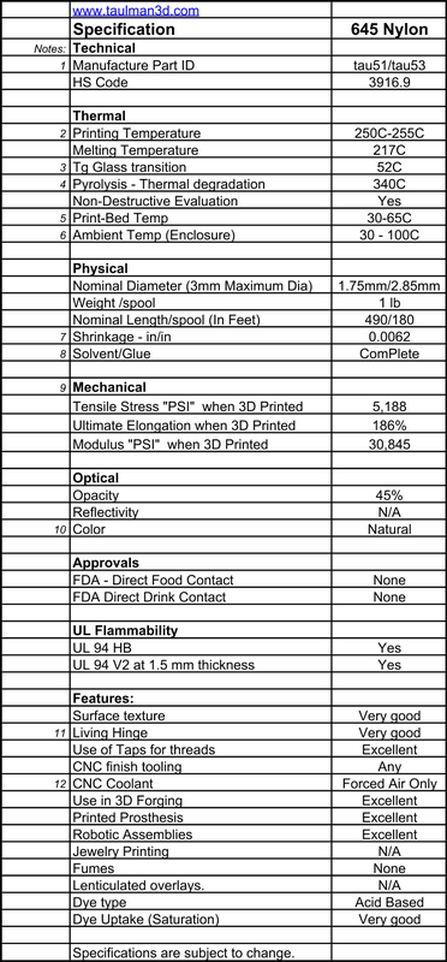 (T3D-645)
| | |
| --- | --- |
| SKU | T3D-645 |
| Brand | Taulman3D |
| Shipping Weight | 1.3500kg |
| Shipping Width | 0.210m |
| Shipping Height | 0.080m |
| Shipping Length | 0.220m |
Good material just can be

By:

Luke D.

on 21 June 2017

Good material just can be stringy, printed at 245oC and there are small dregs on the walls. Used glue stick on glass to get bed adhesion at 80oC




(4)
Fast delivery, Great products. Will

By:

Chris M.

on 29 June 2016

Fast delivery, Great products. Will buy again.




(5)
Excellent

By:

David W.

on 1 December 2014

Excellent




(5)