Taulman T-Glase Green 0.45kg
Express Dispatch
Australian Owned & Operated
Money Back Guarantee
Quality Assured Products
Taulman T-Glase Green
T-glase (pronounced TEE-GLASS) is an "optically correct" or water clear polymer that comes in Clear, Red, Green, Blue, White, Black and Aqua. Red, Green, Blue and Aqua are translucent rather than opaque. t-glase is a food and beverage safe polymer and carries the recycle rating of "1". t-glase is one of the lowest shrinkage of the polyesters. With optical coatings, t-glase can appear as clear as a glass part. t-glase prints at 235-245C. One can easily print light guides or light pipes.
Strength - First, as it's a taulman3D industrial line, it has to be strong and we, along with our local testers and some selected industrial testers, are very pleased with the strength of t-glase. Especially with the larger nozzles used on industrial units.
Temperature - Optimum temperature is about 235c to 240C, but will print down to 207C and up to about 255C.
FDA approved – Clear t-glase is specifically made of FDA approved polymers for direct food contact/containers. This includes cups and other liquid storage parts as well as utensils.
Environmental - While t-glase is not biodegradable like PLA, it is a material that's considered 100% reclaimable. Thus the new "struders" that convert failed prints back to usable line work perfectly with t-glase. If you have a "struder", you can actually mix in 12% of the total weight in discarded clear water bottles.
Clarity – t-glase's clarity supports industry's requirements for non-destructive evaluation of 3D Printed parts.
Shrinkage - Very low shrinkage makes printing large flat surfaces a breeze.
Bridging - Those of us that have printed with acrylics and polycarbonates are always envious of their bridging capabilities due to glass temperature. And the new t-glase is very impressive at bridging.
Fumes - Unlike some lines, there are no odors or fumes when 3D Printing with t-glase.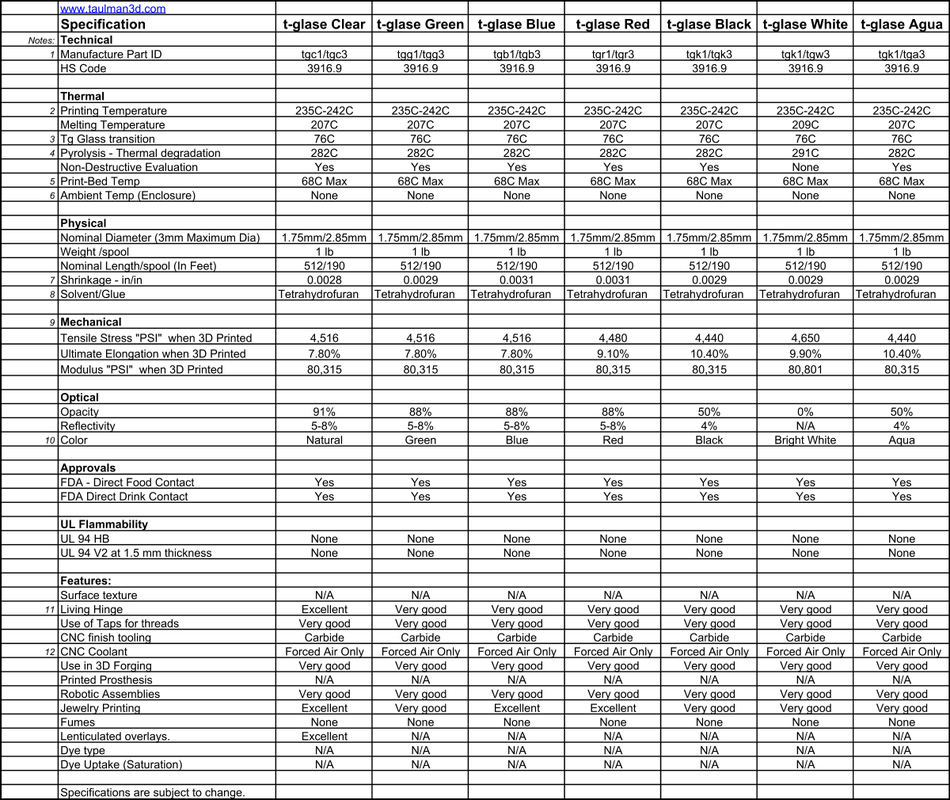 (T3D-TGLASE-GREEN)
| | |
| --- | --- |
| SKU | T3D-TGLASE-GREEN |
| Brand | Taulman3D |
| Shipping Weight | 0.9500kg |
| Shipping Width | 0.210m |
| Shipping Height | 0.080m |
| Shipping Length | 0.220m |
Excellent Product

By:

Austweb

on 23 January 2015

Excellent Product




(5)