Zortrax Inventure 3D Printer and DSS Station Demo
Reseller, Corporate or Goverment Buyer?
Government and Education
3DPrintergear has been supplying government organisations with 3D printers, service and support since 2012. As an approved government customer you will automatically be entitled to 30 day terms with an official purchase order.
If you would like to create an account, please contact us on 1300 334 327, or at sales@3dprintergear.com.au
Resellers
Want to become a reseller ?
3DPrintergear offers special pricing to genuine resellers. Once your application is approved, your new buying prices will be shown on our website after you login. To apply for a resellers account please contact us at info@3dprintergear.com.au
---
Your Order Qualifies for Free Shipping! - FREE
Your order will be shipped by the most economical option, with online tracking. Delivery is usually 2-7 business days.
Express Dispatch
Australian Owned & Operated
Money Back Guarantee
Quality Assured Products
We have one demo Inventure and DSS station for sale. Good working order. Bargain priced!
Zortrax Inventure 3D Printer and DSS Station
Zortrax Inventure is a dual-extrusion 3D printer designed for professional applications in various fields ranging from industrial design, through medicine, to engineering. It's an affordable desktop machine with capabilities found almost exclusively in large industrial class 3D printers: a dissolvable support system, an enclosed heated chamber, and a built-in HEPA filter.
What makes Zortrax Inventure exceptional is that it has all of those features combined and seamlessly integrated with the entire Zortrax Ecosystem along with dedicated 3D printing filaments and Z-SUITE slicing software. That's why Zortrax Inventure is a plug & play desktop 3D printer offering industrial-class performance.
Enclosed Printing Chamber
All ABS-based materials shrink during cool down.
The higher the cool down rate, the more they shrink. To solve this, Zortrax Inventure has been designed around an enclosed, heated printing chamber. Hot ABS filament getting out of the nozzle is cooled down to 80 °C (176 °F). This temperature is then maintained in the chamber throughout the entire 3D printing process. Once the model is finished, Zortrax Inventure cools it down further to room temperature. This way all layers cool down simultaneously at the same rate to prevent warping, cracking, and shrinkage.
Water-soluble Support
Zortrax Inventure works with separate, watersoluble support filaments. Effortless, hands-free support removal is possible with all filaments compatible with the printer, ranging from Z-PLA to ABS-based materials like Z-ULTRAT Plus that requires extrusion temperatures as high as 245° C (505° F). This way Zortrax Inventure can 3D print precise movable mechanisms, particularly useful in engineering, and models with complex internal structures like the human heart for preoperative planning or training in medicine.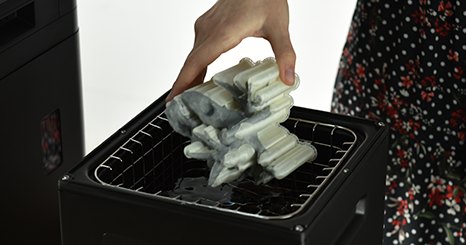 Step 1 Put into water
Take the model off the build tray and submerge it in water inside the Zortrax DSS Station.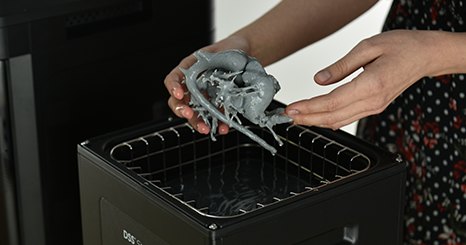 Step 2 Rinse
Take the model out of the Zortrax DSS Station. Sometimes it's necessary to remove remaining support with a brush included in the kit.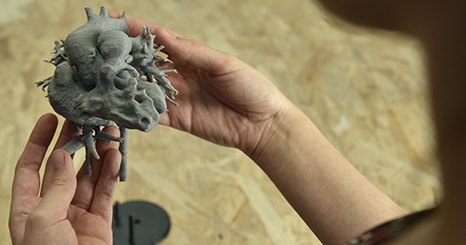 Step 3 Dry
Carefully dry the model once the support has disolved.
Key Features of Z-Suite
Z-Suite 2 slicing software is a link between your idea and product. Use the multitude of functionalities and tools to streamline the 3D model preparation process.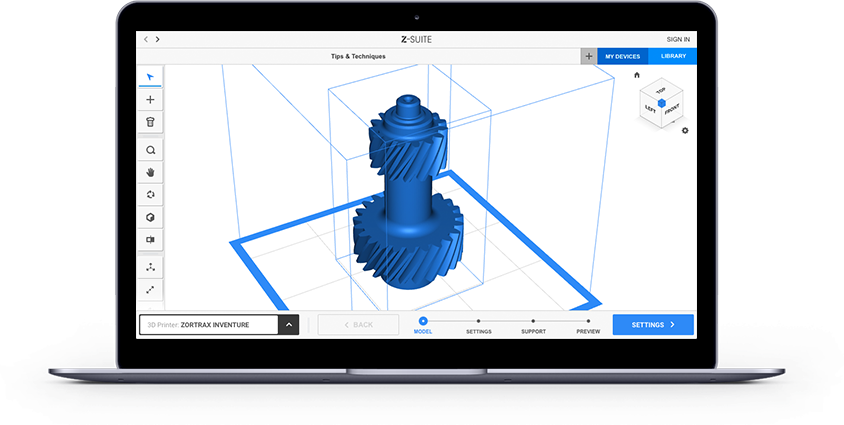 Zortrax Inventure Main Features
Has dual-extrusion

3D prints high-temperature ABS-based filaments with water-soluble support

3D prints support structures soluble in water

Has an enclosed, heated printing chamber

Has a built-in HEPA filter

Offers short-series production capabilities

3D prints movable mechanisms in one go
Build volume
135 x 135 x 130 mm (5.3 x 5.3 x 5.1 in)
Material container
Cartridge
Material diameter
1.75 mm (0.069 in)
Nozzle diameter
0.4 mm (0.016 in)
Support
Dissolvable – printed with a different material than the model
Material detection sensor
Yes
Chip with information about material | (type, color, consumption)
Yes
Extruder
Printing with the model and the support material
Connectivity
SD card (included)
Available materials
Model materials (Z-PETG, Z-PLA, Z-SEMIFLEX, Z-ULTRAT Plus) and support materials (Z-SUPPORT, Z-SUPPORT Plus)
In the box
3D printer, SD card, cartridge with model material, cartridge with support material, quick start guide, waste container, cartridge knob, power cable, build tray (spare), 5 build trays
Supported file types
.stl, .obj, .dxf, .3mf
Supported operating systems
Mac OS X / Windows 7 and newer versions
Each delivered printer may have worked up to 50 hours during the quality control test prints.
Technology
LPD Plus (Layer Plastic Deposition Plus) – advanced technology with the system of Dissolvable Support Structures
Layer resolution
90-290 microns
Minimal optimal wall thickness
800 microns
Minimal wall thickness
400 microns
Resolution of a single printable point
X/Y axes: 400 microns
Z axis: 90-200 microns
X/Y positioning accuracy
1.5 micron
Z-axis single step
1.25 micron
Maximum printing temperature (extruder)
310 ˚C (590 °F)
Maximum chamber temperature
90 ˚C (194 °F)
Ambient operation temperature
15 - 30 ˚C (59 - 86 °F)
Storage temperature
0 - 35 ˚C (32 ˚-95 ˚F)
AC input
110 V ~ 5.9 A 50/60 Hz
240 V ~ 2.5 A 50/60 Hz
Power supply parameters
24 V DC @ 14 A, 320 W
Maximum power consumption
320 W
Weight and physical dimensions
3D printer (W x D x H)
Z-SUITE
Shipping box
460 x 450 x 520 mm (18.1 x 17.7 x 20.5 in)
Shipping weight
26 kg (57.3 lbs)
Printer weight*
21 kg (46.3 lbs)
* The weight includes: the device with the build tray and the power cable installed. It does not contain the cartridges with the materials.
(Z-INVENTDSS-DEMO)
| | |
| --- | --- |
| SKU | Z-INVENTDSS-DEMO |
| Brand | Zortrax |
| Shipping Weight | 20.0000kg |
Be The First To Review This Product!
Help other Helix Imports Pty Ltd T/AS 3DPrintergear users shop smarter by writing reviews for products you have purchased.