Bambu Lab PETG-CF Black (Spool)
Filament On Spool
Reseller, Corporate or Goverment Buyer?
Government and Education
3DPrintergear has been supplying government organisations with 3D printers, services and support since 2012. As an approved government customer you will automatically be entitled to 30-day terms with an official purchase order.
If you would like to create an account, please contact us on 1300 334 327, or at admin@3dprintergear.com.au
Resellers
Want to become a reseller?
3DPrintergear offers special pricing to genuine resellers. Once your application is approved, your new buying prices will be shown on our website after you login. To apply for a resellers account please contact us at admin@3dprintergear.com.au
---
$10 Flat Rate Shipping - $10.00
Your order will be shipped by the most economical option, with online tracking. Delivery is usually 2-7 business days.
---
TNT/DHL - Next Day Express Domestic - $10.00
1 day delivery! Please note Business address only. Residential addresses will incur a fee.
---
Free pick-up from store - FREE
Free pick-up from '781 High St, Reservoir VIC 3073', between 9am and 5pm
Express Dispatch
Australian Owned & Operated
Money Back Guarantee
Quality Assured Products
Bambu Lab PETG-CF
Bambu PETG-CF combines the benefits of PETG and carbon fiber to deliver outstanding printing performance and enhanced mechanical properties. The improved formula minimizes nozzle clogging and clumping issues commonly associated with traditional PETG filament. The addition of carbon fiber reinforcement provides increased strength without compromising toughness, resulting in durable prints with excellent impact resistance. Additionally, Bambu PETG-CF boasts a glossy finish, adding a sleek and professional appearance to your printed models. Whether you're creating drone parts, racing models, or functional components, Bambu PETG-CF is the ideal choice for achieving high performance and aesthetic appeal.
Reduced Clumping and Stringing
Bambu PETG-CF has been specially formulated to overcome the common challenges of clumping and nozzle sticking that can occur during PETG printing. The modified formula ensures smooth and consistent extrusion, allowing for reliable and hassle-free printing. With this improvement, you can achieve high-quality prints with excellent adhesion between layers, reducing the risk of delamination or print failures. Bambu PETG-CF provides a seamless printing experience, making it an ideal choice for projects that require the unique properties of PETG combined with the added strength of carbon fiber reinforcement.

Parameters Comparison
| | | |
| --- | --- | --- |
| | PLA-CF | PETG-CF |
| Price | $53.99 CAD | $53.99 CAD |
| Filament Type | Carbon Fiber Infill | Carbon Fiber Infill |
| Hotend Compatibility | Hardened Steel (0.4, 0.6, 0.8 mm) | Hardened Steel (0.4, 0.6, 0.8 mm) |
| Build Plate Compatibility | Cool Plate, High Temperature Plate, Textuerd PEI Plate | Engineering Plate, High Temperature Plate, Textuerd PEI Plate |
| AMS Compatibility | Yes | Yes |
| Surface | Matte | Shiny |
| Print Speed | <250 mm/s | <200 mm/s |
| Toughness (Impact Strength - XY) | 23.2 kJ/m² | 41.2 kJ/m² |
| Strength (Bending Strength - XY) | 96 MPa | 83 MPa |
| Stiffness (Bending Modulus - XY) | 3700 MPa | 2890 MPa |
| Layer Adhesion (Impact Strength - Z) | 7.8 kJ/m² | 10.7 kJ/m² |
| Heat Resistant(HDT, 0.45 MPa) | 55 °C | 74 °C |
Superior Print Surface
The incorporation of carbon fiber in Bambu PETG-CF brings an advanced texture to the surface of printed objects, adding a unique and visually appealing aesthetic. The carbon fiber reinforcement creates a subtle pattern that enhances the overall appearance of the print, giving it a distinct and professional look.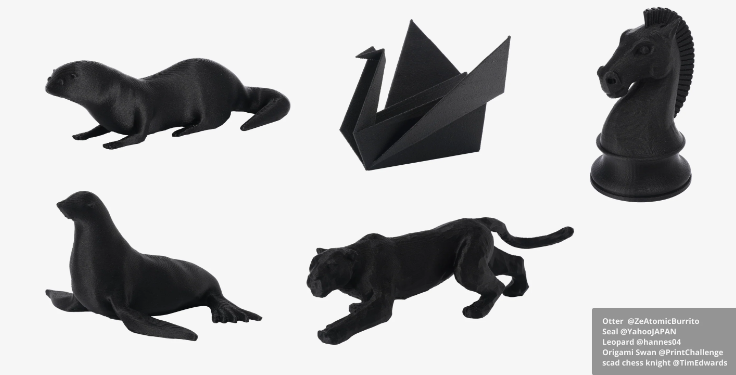 Recommended Printing Settings
Drying Settings before Printing

65 °C,8 h

Printing and Keeping Container's Humidity

< 20% RH (Sealed, with Desiccant)

Nozzle Temperature

240 - 270 °C

Bed Temperature (with PVP Glue)

65 - 75 °C

Printing Speed

< 200 mm/s
Carbon Fibre Texture
The inclusion of carbon fiber in Bambu PETG-CF introduces several desirable characteristics to the printed surface. One of these is the soft reflection that the carbon fiber imparts, giving the printed objects a more premium and refined appearance. Additionally, the carbon fiber reinforcement helps to minimize the visibility of layer lines, resulting in a smoother and more polished surface finish.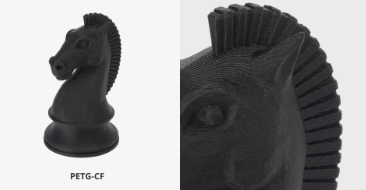 Physical Properties
| | |
| --- | --- |
| Density | 1.25 g/cm³ |
| Vicat Softening Temperature | 85 °C |
| Heat Deflection Temperature | 74 °C |
| Melting Temperature | 225 °C |
| Melt Index | 19.3 ± 2.4 g/10 min |
Glossy Prints
In contrast to the matte finish of PLA-CF, Bambu PETG-CF offers a shiny finish that provides an alternative aesthetic option for 3D prints.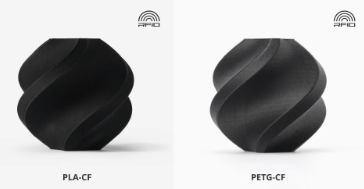 Mechanical Properties
| | |
| --- | --- |
| Tensile Strength | 59 ± 4 MPa |
| Breaking Elongation Rate | 10.4 ± 0.6 % |
| Bending Modulus | 2890 ± 130 MPa |
| Bending Strength | 83 ± 4 MPa |
| Impact Strength | 41.2 ± 2.6 kJ/m² |
Powerful XY Performance
The incorporation of carbon fiber in Bambu PETG-CF substantially improves the XY strength of the printed parts, providing them with increased structural integrity. The carbon fiber reinforcement reinforces the PETG matrix, enhancing its overall strength and reducing the risk of deformation or breakage under applied forces. Despite the added strength, the layer bonding of Bambu PETG-CF remains intact, ensuring that the printed objects maintain their dimensional stability and durability.
Smart Printing with RFID
With Bambu PETG-CF, all the essential printing parameters are conveniently embedded in an RFID chip. This RFID chip can be read by our AMS (Automatic Material System), eliminating the need for manual configuration and tedious setup steps.
Simply load the filament onto the printer, and the AMS will automatically detect the material and retrieve the corresponding printing parameters from the RFID chip. This streamlined process saves you time and effort, allowing you to start printing right away without the hassle of adjusting settings.
Say goodbye to manual parameter input and enjoy a more seamless and efficient printing experience with Bambu PETG-CF and our integrated AMS technology.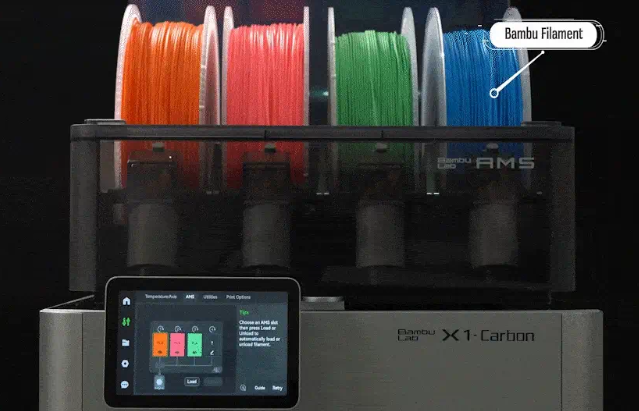 Mechanical Properties
Tensile Strength

38 ± 4 MPa

Breaking Elongation Rate

12.7 ± 3.4 %

Bending Modulus

3700 ± 220 MPa

Bending Strength

96 ± 3 MPa

Impact Strength

23.2 ± 3.7 kJ/m²
Increased Flexibility
Bambu PETG-CF stands out among other carbon fiber materials due to its exceptional toughness. The addition of carbon fiber reinforcement enhances the overall toughness of the PETG matrix, making it more resistant to fractures and failures under external stress and impact. This increased toughness ensures that the printed parts can withstand demanding applications and environments without compromising their structural integrity. Whether subjected to mechanical forces or impacts, Bambu PETG-CF exhibits a higher level of durability and resistance to failure, providing reliable performance for various functional and demanding 3D printing projects.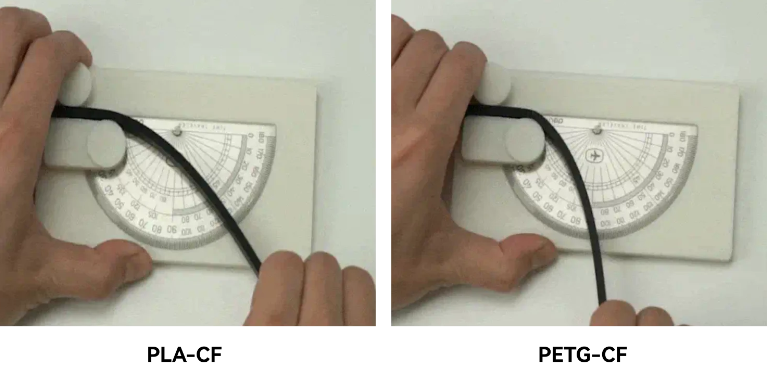 (47906)
| | |
| --- | --- |
| SKU | 47906 |
| Brand | Bambu Lab |
| Shipping Weight | 1.4500kg |
| Shipping Width | 0.210m |
| Shipping Height | 0.070m |
| Shipping Length | 0.210m |
Be The First To Review This Product!
Help other 3DPrintergear users shop smarter by writing reviews for products you have purchased.