Creality K1 Speedy 3D Printer
SHIPPING JUNE 2023
Reseller, Corporate or Goverment Buyer?
Government and Education
3DPrintergear has been supplying government organisations with 3D printers, services and support since 2012. As an approved government customer you will automatically be entitled to 30-day terms with an official purchase order.
If you would like to create an account, please contact us on 1300 334 327, or at admin@3dprintergear.com.au
Resellers
Want to become a reseller?
3DPrintergear offers special pricing to genuine resellers. Once your application is approved, your new buying prices will be shown on our website after you login. To apply for a resellers account please contact us at admin@3dprintergear.com.au
---
Free pick-up from store - FREE
Free pick-up from '781 High St, Reservoir VIC 3073', between 9am and 5pm
Express Dispatch
Australian Owned & Operated
Money Back Guarantee
Quality Assured Products
Creality K1 3D Printer Australia:
NEXT-GEN, 600MM/S PRINT SPEED, ENCLOSED 3D PRINTER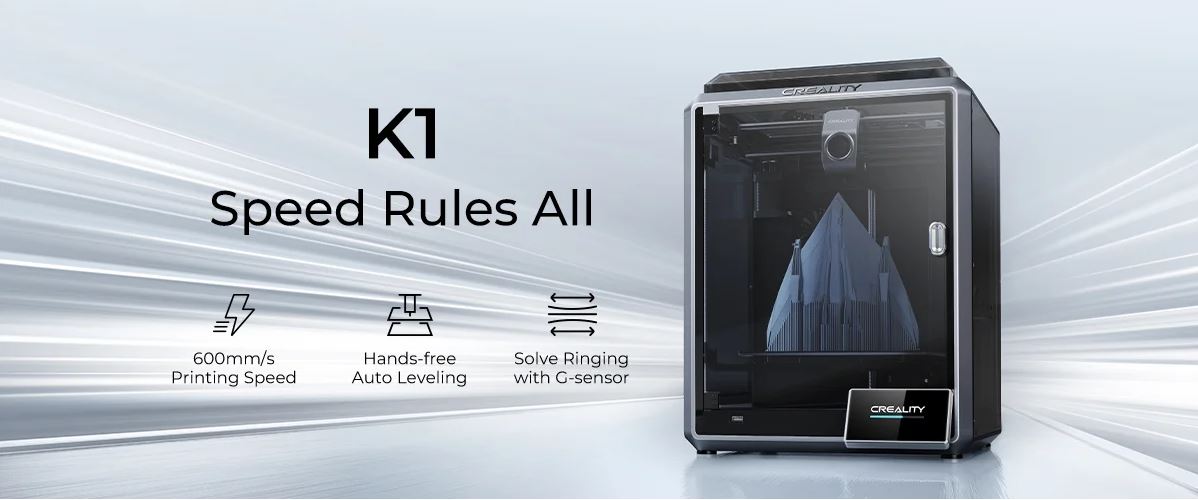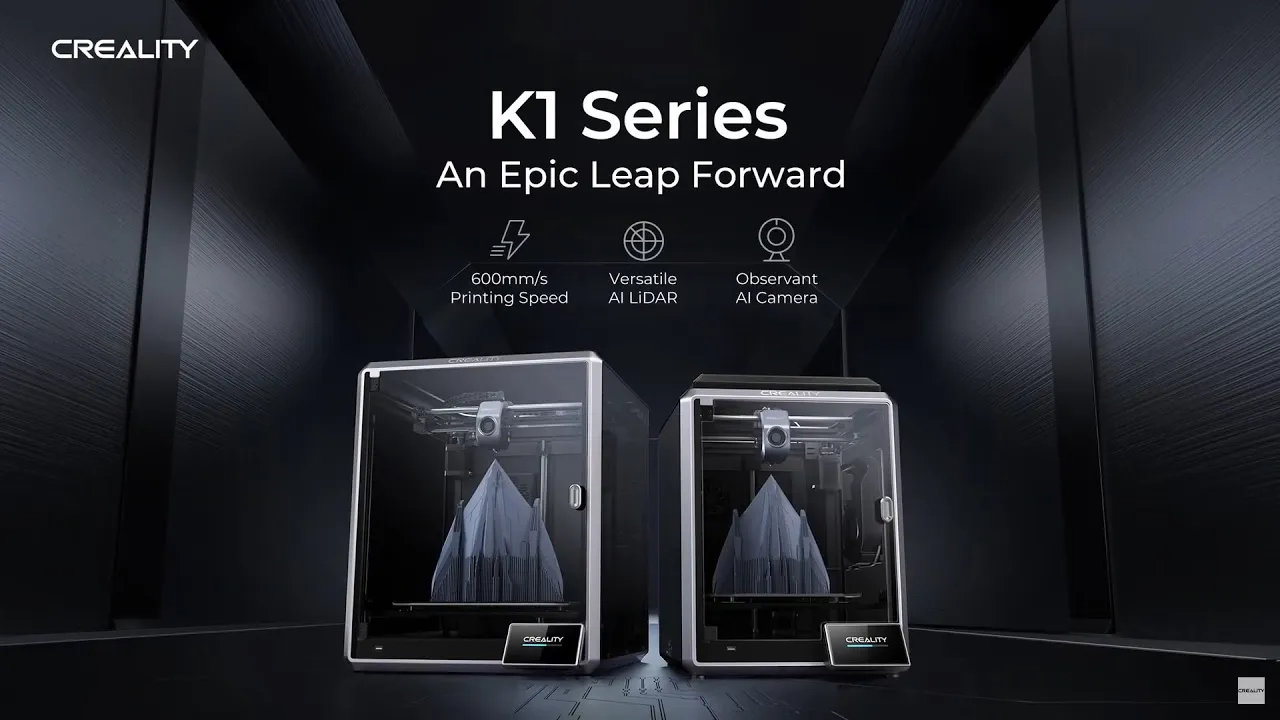 Introducing the Creality K1 3D Printer: Experience lightning-fast 3D printing with speeds up to 600mm/s, 12x faster than regular FDM printers. Boost efficiency and eco-friendliness while enjoying the pure joy of creation. Features include 20000mm/s² acceleration, dual-fan model cooling, and Creality Print 4.3 slicer software for seamless high-speed printing. The flexible, heat-resistant build plate ensures easy print removal, while hands-free auto levelling and pre-shipment assembly make setup a breeze. The K1's rigid unibody frame, quick-heating heat bed, and connected control options ensure stability and convenience. Say goodbye to ringing and Z-banding with the G-sensor and upgraded Z-axis. Experience the Creality K1 3D Printer's unmatched speed and precision today.

Product Highlights:

Printing Technology: FDM

Build Volume: 220x220x250mm

Product Dimensions: 355x355x480mm

Package Dimensions: 415x415x550mm

Net Weight: 12.5kg

Gross Weight: 16kg

Printing Speed: ≤600mm/s

Acceleration: ≤20000mm/s²

Printing Accuracy: 100±0.1mm

Layer Height: 0.1-0.35mm

Extruder: Dual-gear direct drive extruder

Filament Diameter: 1.75mm

Nozzle Diameter: 0.4mm (compatible with 0.6/0.8mm)

Nozzle Temperature: ≤300℃

Heatbed Temperature: ≤100℃

Build Surface: Flexible build plate

Levelling Mode: Hands-free auto levelling

File Transfer: USB drive, WiFi

Display Screen: 4.3" colour touch screen

AI Camera: Optional

AI LiDAR: Optional

Power Loss Recovery: Yes

Filament Runout Sensor: Yes

Input Shaping: Yes

Lighting Kit: Yes

Sleep Mode: Yes

Rated Voltage: 100-120V~, 200-240V~, 50/60Hz

Rated Power: 350W

Supported Filaments: ABS, PLA, PETG, PET, TPU, PA, ABS, ASA, PC, PLA-CF, PA-CF, PET-CF

Printable File Format: G-Code

Slicing Software: Creality Print; compatible with Cura, Simplify3D, PrusaSlicer

File Formats for Slicing: STL, OBJ, AMF

UI Languages: English, Spanish, German, French, Russian, Portuguese, Italian, Turkish, Japanese, Chinese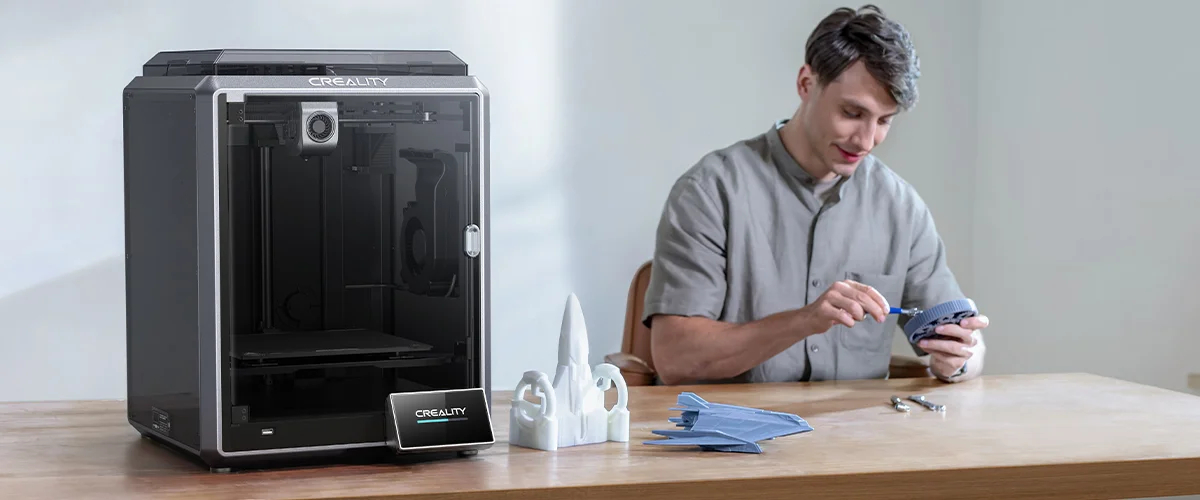 Unprecedented Speed in a Spectacular Fashion
The Creality K1 3D Printer boasts groundbreaking speeds, setting it apart from conventional FDM 3D printers. Its remarkable 600mm/s speed, achieved in Surface Mode with a 0.1mm layer height, offers breathtaking performance. With an average printing speed of 300mm/s and a travel speed of 800mm/s, the K1 is designed to significantly reduce printing times.
These extraordinary speeds not only increase overall efficiency but also enable users to rapidly iterate and bring their creative ideas to life. The K1's swift performance is further enhanced by its 20000mm/s² acceleration, allowing it to reach top speeds in just 0.03 seconds. Experience the true power of next-generation 3D printing with the blazing-fast Creality K1.
Experience an astonishing 600mm/s* with the K1, making it 12 times faster than traditional FDM 3D printers. Prepare for the exhilaration of unparalleled speed.
*The 600mm/s speed is attained at Creality Lab in Surface Mode with a 0.1mm layer height.
*The average speed is 300mm/s, while the travel speed reaches 800mm/s.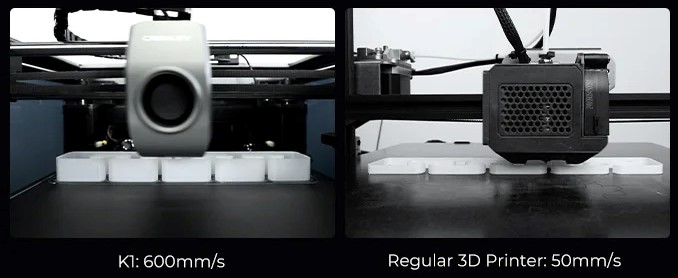 | | |
| --- | --- |
| | |
Dual Cooling Fans

The Creality K1 features a large fan on the printhead, complete with air ducts, to provide direct cooling for the printed model. An 18W auxiliary fan is also located within the build chamber to enhance the cooling process further. This dual-fan system ensures optimal cooling and print quality.




Removable Flexible Build Plate

The build plate of the Creality K1 is adhesive and resistant to heat, allowing for excellent compatibility with numerous filaments. Its textured surface provides a sleek and polished appearance for the base of the model. Additionally, the build plate's pliability enables quick and effortless removal of prints.

Print Right Out Of the Box

The Creality K1 3D Printer is designed with user convenience in mind, arriving pre-assembled and calibrated to save you time and effort. This means that once you receive your K1, you can start using it without having to spend hours assembling and calibrating the machine. To further assist you, a boot-up quick guide is provided, which offers step-by-step instructions for setting up your printer and beginning your first print project. The moment your K1 arrives at your doorstep, you can dive right into the world of 3D printing without any hassle or delays, allowing you to focus on bringing your creative ideas to life. This streamlined process makes the Creality K1 an excellent choice for both beginners and experienced users alike, offering a seamless 3D printing experience.

One Tap Self Test

Newly designed and upgraded limit switches tested to last and overcome wear and tear.

Palette 3 Pro is upgraded to include custom designed switches with updated materials and mechanisms made out of hardened steel in order to improve its lifespan. The design is compact, allowing for more room to incorporate improved filament monitoring and tracking throughout the device. The multi-purpose design is perfect for run-out detection because it can trigger in either direction and withstand friction from filament movement.

Hands-Free Auto Levelling

A collection of strain sensors is strategically incorporated into the heatbed of the 3D printer, allowing for the generation of a highly accurate levelling mesh. This streamlined process initiates independently as soon as the printing begins, eliminating the need for any user intervention or oversight. Experience effortless 3D printing with this innovative, self-levelling technology.
Resources
Follow the links below for additional resources on the Creality K1
Frequently Asked Questions
Q: When will the Creality K1 be available in Australia?
A: The Creality K1 is due to be officially released on May 22nd. 3D Printer Gear is expected to have the first batch of units delivered and available at the beginning of June 2023
Q: What is the build volume of the Creality K1 3D Printer?
A: The build volume of the K1 is expected to be 220 x 200 x 250mm with the K1 Max expected to be 300 x 300 x 300mm
Q: How much faster is the K1 compared to a standard 3D printer?
A: The Creality K1 is 12x faster than a standard FDM 3D printer boasting print speeds of up to 600mm/s. This impressive performance significantly reduces printing times and enhances overall efficiency compared to conventional 3D printers. A standard benchy usually takes 1h 30 min to print but with the K1 this is achieved in 13 minutes.
Q: What materials is the Creality K1 compatible with?
A: The Creality K1 3D Printer offers exceptional versatility, as it is compatible with a wide variety of filaments to suit diverse applications and creative needs. Users can print with materials such as ABS, PLA, PETG, PET, TPU, PA (Nylon), ASA, PC (Polycarbonate), PLA-CF (Carbon Fiber Reinforced PLA), PA-CF (Carbon Fiber Reinforced PA), and PET-CF (Carbon Fiber Reinforced PET). This extensive range of material options allows for greater flexibility and innovation in 3D printing projects, enabling users to achieve the desired results with the Creality K1.
Q: Does the Creality K1 offer multi-material printing like the Bambu Lab Carbon X1 and AMS?
A: The Creality K1 does not offer multi-material printing like the Bambu Lab X1 Carbon with AMS (Automatic Material Switching) system. The K1 features a single extruder, which allows for printing with a wide variety of filaments, but it does not have the capability to print with multiple materials simultaneously in a single print job. For multi-material printing, you would need a printer with a dual or multi-extruder setup, such as the Bambu Lab X1 Carbon or other printers designed specifically for this purpose.
(CREALITY_K1)
| | |
| --- | --- |
| SKU | CREALITY_K1 |
| Brand | Creality 3D |
| Shipping Weight | 16.0000kg |
| Shipping Width | 0.415m |
| Shipping Height | 0.550m |
| Shipping Length | 0.415m |
| Shipping Cubic | 0.094724000m3 |
Be The First To Review This Product!
Help other 3DPrintergear users shop smarter by writing reviews for products you have purchased.