E3D V6 Compatible Bi-Metal Heat Break
Express Dispatch
Australian Owned & Operated
Money Back Guarantee
Quality Assured Products
E3D V6 Compatible Bi-Metal Heat Break
Introducing the E3D V6 compatible bi-metal copper heat break, a game-changer in 3D printing technology. This exceptional heat break is designed to optimize your printing experience, ensuring high-quality results every time. The use of bi-metal construction combines the superior thermal conductivity of copper with the durability of stainless steel, creating an ideal balance for efficient heat transfer and improved print performance.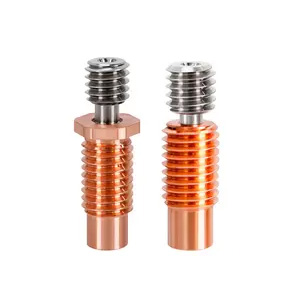 With its E3D V6 compatibility, this heat break seamlessly integrates into your existing 3D printer setup. The precision engineering of this component guarantees a snug fit, minimizing heat loss and preventing filament clogging. The copper section, known for its exceptional thermal conductivity, efficiently conducts heat from the hot end to the cooling zone, promoting consistent and reliable filament flow.

Upgrade your 3D printer effortlessly with this E3D V6 compatible bi-metal copper heat break. Designed as an easy drop-in replacement, it perfectly matches the dimensions of your current heat break and is compatible with the E3D V6 hot end. Simply remove your existing heat break and replace it with this upgraded version to instantly experience the benefits of improved heat transfer and filament control. Elevate your printing capabilities and achieve outstanding results with ease.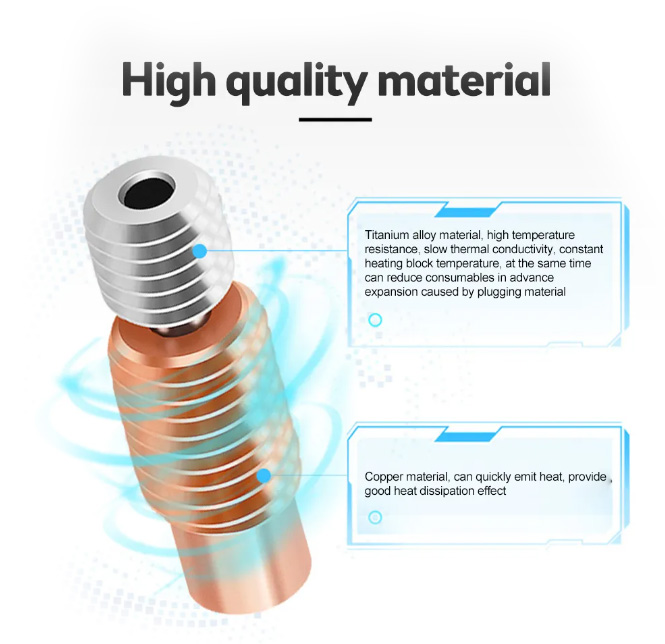 The E3D v6 Brass Nozzle is compatible with all printers fitted with a E3D heaterblock (here are just a few) :
Prusa Bear MK3S+
Prusa MK3S
Prusa MK3
Prusa Mini+
Prusa Mini
Prusa MK2.5S
Prusa MK2.5
Prusa MK2S
Prusa MK3S+MK2
Voron 2.4
And any 3D printer utilising an E3D varied hotend including:
E3D V6
Lite6
Chimera
Titan Aero
Titan Aqua
Hemera
(48163)
Be The First To Review This Product!
Help other 3DPrintergear users shop smarter by writing reviews for products you have purchased.