EIBOS 3D Cyclopes Dual Filament Dryer
Keep Your Filament Dry!
Reseller, Corporate or Goverment Buyer?
Government and Education
3DPrintergear has been supplying government organisations with 3D printers, services and support since 2012. As an approved government customer you will automatically be entitled to 30-day terms with an official purchase order.
If you would like to create an account, please contact us on 1300 334 327, or at admin@3dprintergear.com.au
Resellers
Want to become a reseller?
3DPrintergear offers special pricing to genuine resellers. Once your application is approved, your new buying prices will be shown on our website after you login. To apply for a resellers account please contact us at admin@3dprintergear.com.au
---
Your Order Qualifies for Free Shipping! - FREE
Your order will be shipped by the most economical option, with online tracking. Delivery is usually 2-7 business days.
---
Free pick-up from store - FREE
Free pick-up from '781 High St, Reservoir VIC 3073', between 9am and 5pm
Express Dispatch
Australian Owned & Operated
Money Back Guarantee
Quality Assured Products
EIBOS CYCLOPES 3D Filament Dryer Australia
Introducing the EIBOS 3D Filament Dryer CYCLOPES – a state-of-the-art solution for maintaining the quality of your 3D printing filaments. This innovative filament dryer provides a controlled environment for your materials, helping to prevent moisture-related issues that can adversely affect the printing process and final product quality. By preserving the optimal condition of your filaments, the CYCLOPES ensures consistent, high-quality 3D prints every time.
Features include: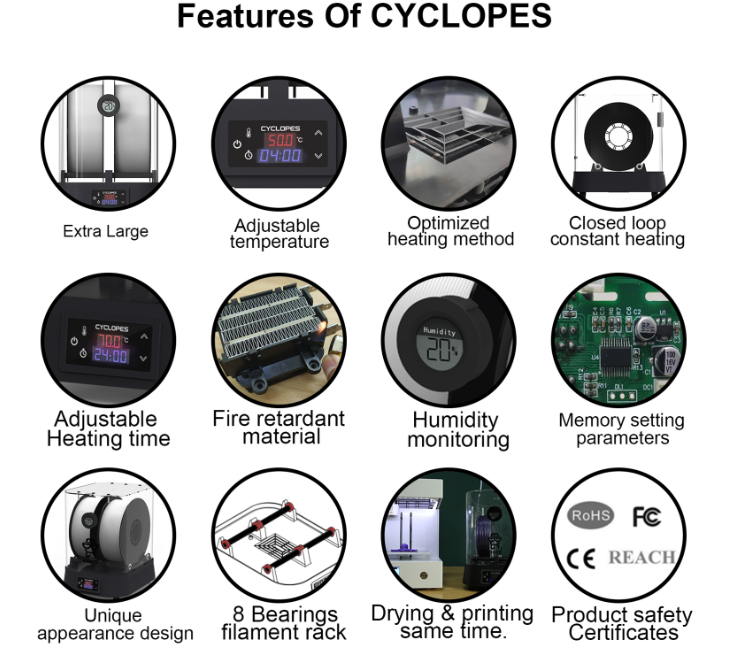 Extra Large
The CYCLOPES Filament Dryer offers a spacious interior, accommodating 4 rolls of 0.5kg filaments, 2 rolls of 1kg filaments, or a single 3kg filament roll simultaneously. This versatile dryer is suitable for various filament formats, including 1.75mm, 2.85mm, and 3mm, making it an ideal solution for diverse 3D printing needs. Keep your filaments in optimal condition and ensure consistent printing performance with the CYCLOPES Filament Dryer.
Adjustable Temperature
The CYCLOPES Filament Dryer boasts an easy-to-use operation process, allowing you to set the drying temperature according to your specific needs. With a wide temperature range of up to 70°C, you can effectively dry various types of filaments to ensure optimal print quality. Simplify your filament drying process and achieve the best printing results with the CYCLOPES Filament Dryer.
Optimized Heating Method
The CYCLOPES Filament Dryer utilizes hot air heating to ensure efficient and effective drying. Its unique air duct design adheres to the principles of air thermodynamics, resulting in more even heating of the filament. This innovative design helps maintain filament quality and consistency, enabling you to achieve outstanding 3D printing results every time.
Closed Loop Constant Heating
The CYCLOPES Filament Dryer features a closed-loop constant heating system that maintains a stable temperature throughout the drying process. This advanced design ensures optimal filament drying conditions, resulting in improved print quality and consistency for all your 3D printing projects.
Adjustable Heating Time
The CYCLOPES Filament Dryer offers adjustable heating time settings, allowing you to tailor the drying process to the specific needs of your filaments. This customization ensures that your materials are optimally prepared for 3D printing, ultimately leading to better print quality and reliability. Take control of your filament drying process with the CYCLOPES Filament Dryer's adaptable heating time feature.
Fire Retardant Material
The CYCLOPES Filament Dryer is constructed using fire-retardant materials, enhancing its safety features and providing you with added peace of mind during the drying process. This added protection reduces the risk of fire, making the CYCLOPES Filament Dryer a reliable and secure choice for preparing your 3D printing filaments.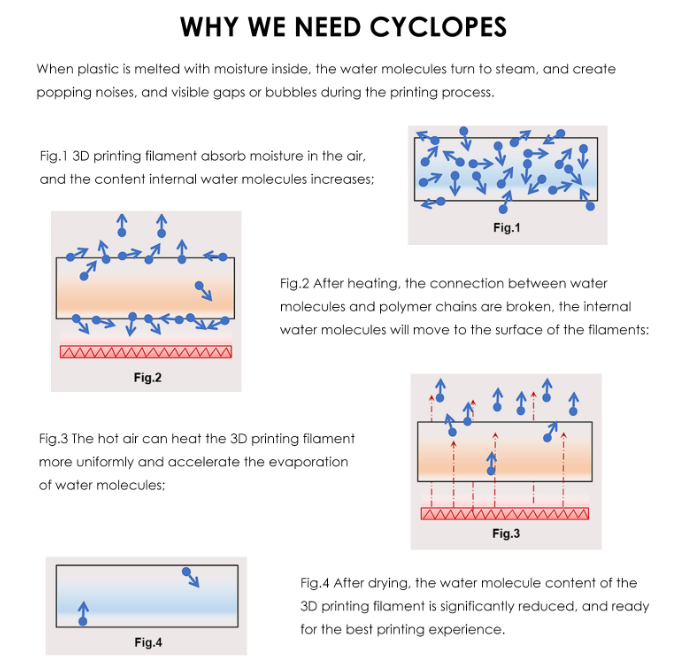 Humidity Monitoring
The CYCLOPES Filament Dryer is equipped with humidity monitoring capabilities, allowing you to keep a close eye on the moisture levels inside the dryer. By tracking humidity, you can ensure that your filaments are properly dried and maintained at optimal conditions for 3D printing. This advanced feature helps improve print quality and extends the lifespan of your materials by preventing moisture-related issues.
Memory Setting Parameters
The CYCLOPES Filament Dryer comes with memory setting parameters, allowing you to save your preferred drying settings for different filament types. This feature ensures a more convenient and efficient drying process, as you can easily recall the optimal temperature and time settings for each material. No more guesswork or constantly adjusting settings; simply select your saved parameters and let the CYCLOPES Filament Dryer handle the rest.
Unique Appearance Design
The CYCLOPES Filament Dryer boasts a distinctive appearance design that sets it apart from other filament dryers on the market. Its sleek and modern aesthetic not only adds a touch of style to your workspace but also reflects its advanced engineering and performance capabilities. The user-friendly interface and ergonomic layout make it a pleasure to use, while its compact footprint ensures it fits seamlessly into any 3D printing setup. Experience both form and function with the CYCLOPES Filament Dryer's unique design.
8 Bearing Filament Track
The CYCLOPES Filament Dryer features an 8-bearing filament track system that ensures smooth and consistent filament feeding during the drying process. This innovative design minimizes friction and eliminates tangling, allowing for an uninterrupted and efficient drying experience. The 8-bearing filament track contributes to the overall performance of the dryer and helps maintain the quality of the filament during the drying process, resulting in better print outcomes. This well-engineered system is a testament to the thought and care that has gone into the design of the CYCLOPES Filament Dryer.
Dries and Prints at the Same Time
The CYCLOPES Filament Dryer is designed to dry and feed filament to your 3D printer simultaneously. This feature allows you to print with filaments that are sensitive to moisture, such as nylon, PVA, or PETG, while keeping them dry throughout the entire printing process.
Product Safety Certificates
CYCLOPES have CE, FCC ROHS,REACH Certificates.
Product Specifications
| | |
| --- | --- |
| Input Voltage | AC 110V1220V 50/60Hz |
| Rated Power | 100w |
| Temperature Control Range | ≤70℃ |
| Size | 245x305x355mm |
| Total Weight | 2.0kg |
| Timing Length | 1min-24h or unlimited |
| Precision of Temperature Control | ±2℃ |
| Maximum Capacity | Double Reels 217x80mm Single Reel p217x174mm |
| Filament Diameter | 1.75mm(need to change the Teflon Tube for 2.85mm filament) |
(EIB_CYCL)
| | |
| --- | --- |
| SKU | EIB_CYCL |
| Brand | EIBOS 3D |
| Shipping Weight | 2.3000kg |
| Shipping Width | 0.300m |
| Shipping Height | 0.350m |
| Shipping Length | 0.250m |
| Shipping Cubic | 0.026250000m3 |
Great for Nylon

By:

Ben

on 2 October 2023

The is product is perfect when working with a filament that retains a lot of moisture like nylon. My nylon was crackling, weak and produces poor quality prints until I loaded it into the dryer and printed directly from it. Came out amazing!! Definately required when printing in high temp or moisture rich filament.




(5)
Just OK Dryer for too higher cost - flawed by poor

By:

DF

on 16 September 2023

The heater unit is so close to under the Botton of Spools when loaded, the heat generated on higher settings softens and deforms the filament (cannot use filament for printing), I cannot recommend this unit, it's a simple design flaw, needs a heat defector between spools and heater vent..




(1)