Filaform Bed Adhesive Spray EXTRA STRENGTH
Ideal for ABS, PETG and Nylon. 100% Warp-free printing
Reseller, Corporate or Goverment Buyer?
Government and Education
3DPrintergear has been supplying government organisations with 3D printers, services and support since 2012. As an approved government customer you will automatically be entitled to 30-day terms with an official purchase order.
If you would like to create an account, please contact us on 1300 334 327, or at admin@3dprintergear.com.au
Resellers
Want to become a reseller?
3DPrintergear offers special pricing to genuine resellers. Once your application is approved, your new buying prices will be shown on our website after you login. To apply for a resellers account please contact us at admin@3dprintergear.com.au
---
$10 Flat Rate Shipping - $10.00
Your order will be shipped by the most economical option, with online tracking. Delivery is usually 2-7 business days.
---
TNT/DHL - Next Day Express Domestic - $10.00
1 day delivery! Please note Business address only. Residential addresses will incur a fee.
---
Free pick-up from store - FREE
Free pick-up from '781 High St, Reservoir VIC 3073', between 9am and 5pm
Express Dispatch
Australian Owned & Operated
Money Back Guarantee
Quality Assured Products
Filaform Bed Adhesive Spray EXTRA STRENGTH 100ml
Proudly Australian-made!
Completely prevent warping with the new Fialform bed adhesive spray designed specifically for high temp materials PETG, ABS, ASA, nylon and many more FDM based materials or when you are having issues getting the first layer to print. The part is securely held whilst the plate is warm and automatically pops off when the printer has cooled making it the ideal solution for bed adhesion. Filaform Bed adhesive spray EXTRA STRENGTH has been tested on smooth and textured PEI bed platforms and works very well in both scenarios.
In the world of 3D printing, bed adhesion is a crucial factor that can make or break the success of a print. If your prints aren't sticking to the bed, you'll end up with incomplete or distorted prints that are unusable. That's where Filaform Bed Adhesive Spray Extra Strong comes in. This high-performance bed adhesive is specifically designed to hold your 3D prints in place, even during prolonged printing sessions. Made from a specially formulated blend of polymers, this adhesive creates a strong, durable bond that will keep your prints in place, specifically designed for high-temperature filaments.
Applying Filaform Bed Adhesive Spray Extra Strong is easy. Simply shake the bottle well and spray a thin layer onto your bed. Allow it to dry for a few minutes before printing. It's suitable for use with a wide range of high-temp 3D printing materials, including PETG, ABS, PC, PEEK and carbon fibre nylon. Its versatility makes it an excellent choice for any 3D printing enthusiast looking to improve the quality of their prints.
When it comes to removing your printed parts, Filaform Bed Adhesive Spray Extra Strong makes it easy. Simply allow the bed to cool and your printed parts will self-release without needing a scraper. This feature makes it a breeze to remove your parts and get them ready for post-processing.
Filaform Bed Adhesive Spray Extra Strong is an excellent choice for anyone looking to improve the quality of their 3D prints. Its strong, durable bond and easy application make it a must-have for any 3D printing enthusiast. Order yours today and take the first step towards consistent, high-quality prints every time.
Instructions:
Ensure the print surface is clean
Spray thoroughly onto the print base from approximately 10cm ensuring you cover the entire surface
Print your model
Wait for the platform to cool down (below 30 degrees C) and the part should remove automatically.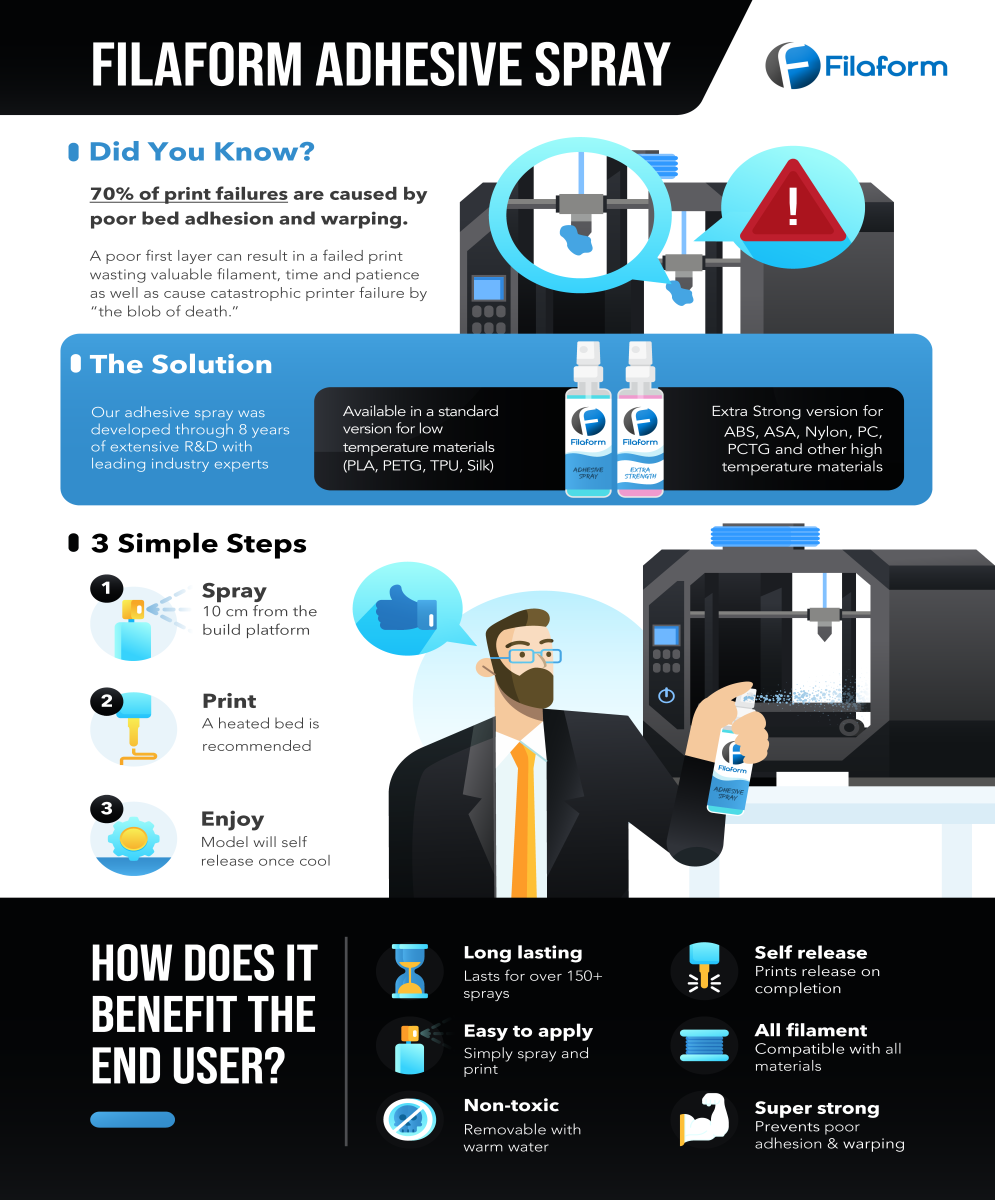 Material Safety Data Sheet (MSDS)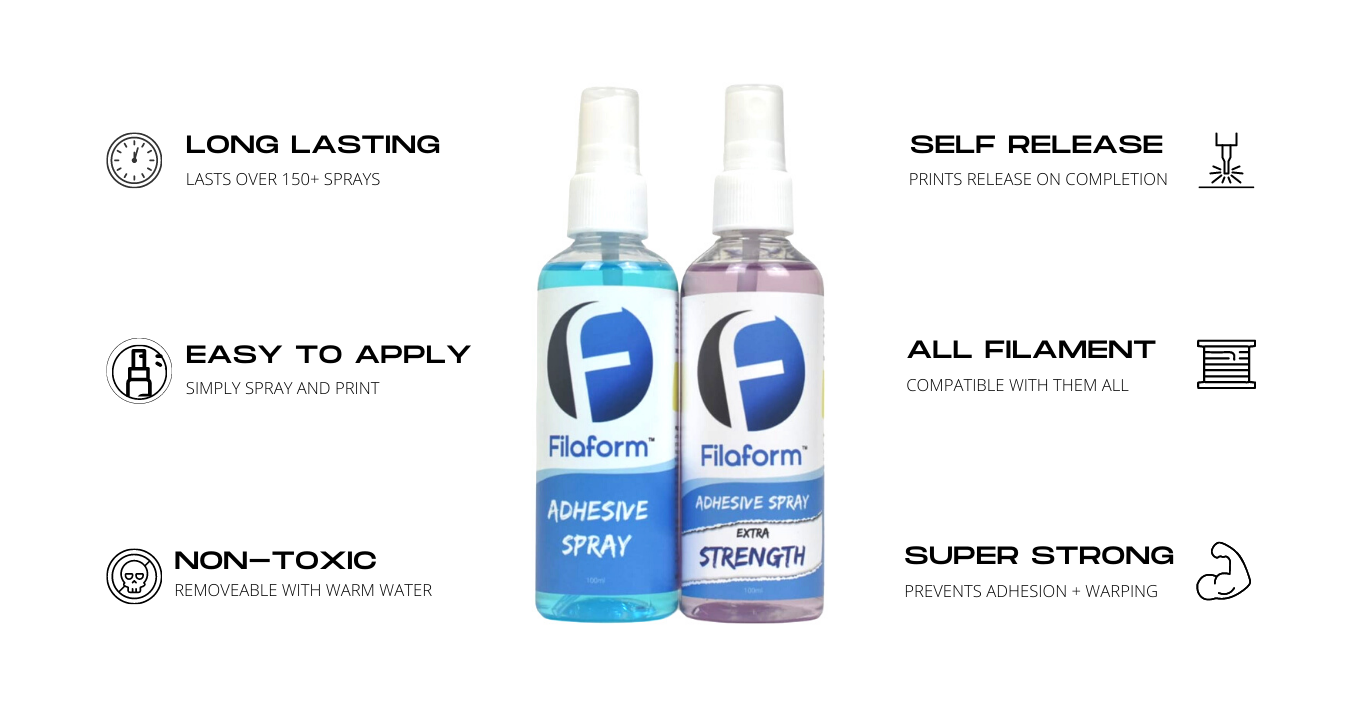 (FILA_BED_SPRAY_EXTRA)
| | |
| --- | --- |
| SKU | FILA_BED_SPRAY_EXTRA |
| Brand | Filaform |
| Shipping Weight | 0.1000kg |
| Shipping Width | 0.040m |
| Shipping Height | 0.150m |
| Shipping Length | 0.040m |
| Shipping Cubic | 0.000240000m3 |
Outstanding service

By:

Dave

on 16 November 2023

My order arrived very quickly. It was packed perfectly, sadly one of the bottles had a very tiny leak in transit. I emailed to let them know so they could prevent it in the future. They have sent a replacement, blown away. Thank you.




(5)
It just works... really really well

12 May 2023

Had great results using this adhesive spray, having failed miserably with a (very messy) glue stick and after no success playing with other variables with my printer and slicer. This stuff just works, spray it on, excellent adhesion, no lifting but prints are still easy to remove - to top it off it's really easy to clean the print surface and it won't leave a horrible residue. I'll never print without this stuff.




(5)