Reseller, Corporate or Goverment Buyer?
Government and Education
3DPrintergear has been supplying government organisations with 3D printers, services and support since 2012. As an approved government customer you will automatically be entitled to 30-day terms with an official purchase order.
If you would like to create an account, please contact us on 1300 334 327, or at admin@3dprintergear.com.au
Resellers
Want to become a reseller?
3DPrintergear offers special pricing to genuine resellers. Once your application is approved, your new buying prices will be shown on our website after you login. To apply for a resellers account please contact us at admin@3dprintergear.com.au
---
$10 Flat Rate Shipping - $10.00
Your order will be shipped by the most economical option, with online tracking. Delivery is usually 2-7 business days.
---
TNT/DHL - Next Day Express Domestic - $10.00
1 day delivery! Please note Business address only. Residential addresses will incur a fee.
---
Free pick-up from store - FREE
Free pick-up from '781 High St, Reservoir VIC 3073', between 9am and 5pm
Express Dispatch
Australian Owned & Operated
Money Back Guarantee
Quality Assured Products
FILAMENT JOINER
The filament joiner is a device or tool used to connect two separate filaments together, allowing for seamless continuity during 3D printing. It is particularly useful when switching between different colors or types of filaments within a single print job. The filament joiner typically works by melting the ends of the filaments and pressing them together to form a solid bond. This ensures a smooth transition between filaments without any interruptions or visible seams in the final print. Using a filament joiner can save time and reduce waste by eliminating the need to change entire spools of filament for small colour or material variations.
Filament Welder Joiner Instruction Video
Minimisation of Filament Waste:

The filament joiner is designed to address situations where the filament becomes disconnected during printing or there is a surplus of material remaining after completing a print that is not sufficient for a new model. By using the filament joiner, you can connect the disconnected or leftover filament to continue printing without wasting material. This helps to reduce filament waste and maximize the usage of your filaments, ensuring efficient and sustainable 3D printing.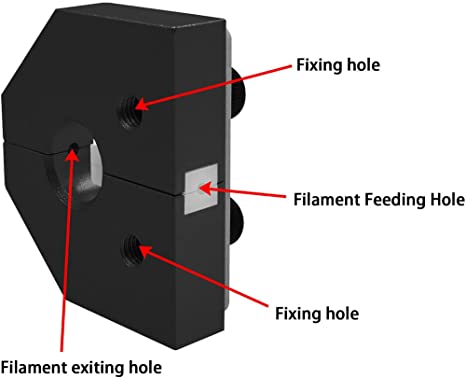 Models Printed in Multiple Colours:

The filament joiner enables you to print models with multiple colors using the same filament. By connecting different colors of the same filament together, you can create intricate and colorful designs that add visual appeal and complexity to your 3D prints. This allows you to explore more creative possibilities and bring your designs to life with vibrant and eye-catching color variations. The filament joiner ensures seamless transitions between different colors, resulting in smooth and continuous color changes throughout your printed model.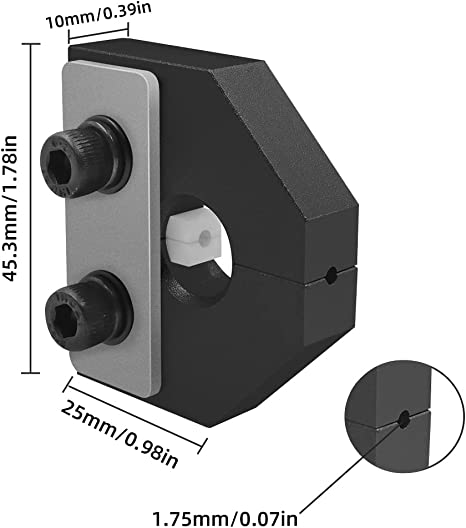 Suitability:

The filament joiner is compatible with a wide range of 1.75mm filaments, making it suitable for use with various materials such as PLA, ABS, PETG, PC, PP, PVB, HIPS, and more. Whether you're working with standard filaments or specialty materials, the filament joiner allows you to seamlessly connect and utilize different filament types to achieve the desired results in your 3D prints. This versatility ensures that you can use the filament joiner for a diverse range of applications and explore different filament options without limitations.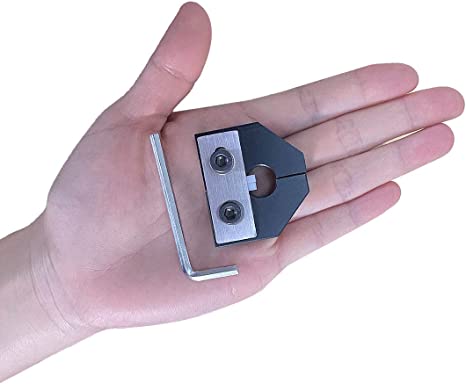 Material:

The filament joiner is crafted using high-quality all-metal materials, ensuring its durability and long-lasting performance. The innovative design of the connector offers reliable and secure filament connections, providing peace of mind during your 3D printing projects. The all-metal construction not only enhances the connector's strength and stability but also enables efficient heat transfer for effective filament welding. With its user-friendly design, the filament joiner is easy to use, allowing for seamless filament connections and uninterrupted printing.
(47903)
| | |
| --- | --- |
| SKU | 47903 |
| Shipping Weight | 0.2000kg |
| Shipping Width | 0.500m |
| Shipping Height | 0.200m |
| Shipping Length | 0.500m |
| Shipping Cubic | 0.050000000m3 |
Be The First To Review This Product!
Help other 3DPrintergear users shop smarter by writing reviews for products you have purchased.