MK8 Brass Nozzle [ 0.4 / 0.6 / 0.8 / 1.0 / 1.2mm ]
Express Dispatch
Australian Owned & Operated
Money Back Guarantee
Quality Assured Products
1.75mm MK8 Compatible Brass Nozzle [ 0.4 / 0.6 / 0.8 / 1.0 / 1.2mm ]
Designed to deliver reliable and precise performance, the MK8 Brass Nozzle is a must-have for every 3D printing enthusiast. Crafted with precision-engineered brass material, it offers excellent thermal conductivity, ensuring efficient filament melting and consistent extrusion. Whether you're a professional or a hobbyist, the MK8 Brass Nozzle is compatible with a wide range of 3D printers, allowing you to achieve smooth surfaces, fine details, and exceptional print quality.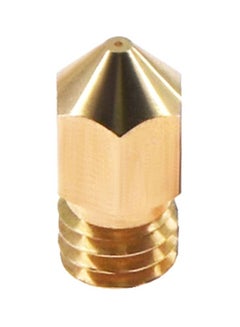 The MK8 Brass Nozzle provides excellent heat resistance, ensuring long-lasting performance and minimizing the risk of nozzle clogs. Installing the MK8 Brass Nozzle is quick and easy, allowing you to get back to printing in no time. Whether you're working on intricate models, functional prototypes, or creative projects, the MK8 Brass Nozzle will help you achieve outstanding results. Elevate your 3D printing experience with the reliability and precision of the MK8 Brass Nozzle. Experience the difference in quality and performance, and unleash your creativity with the MK8 Brass Nozzle.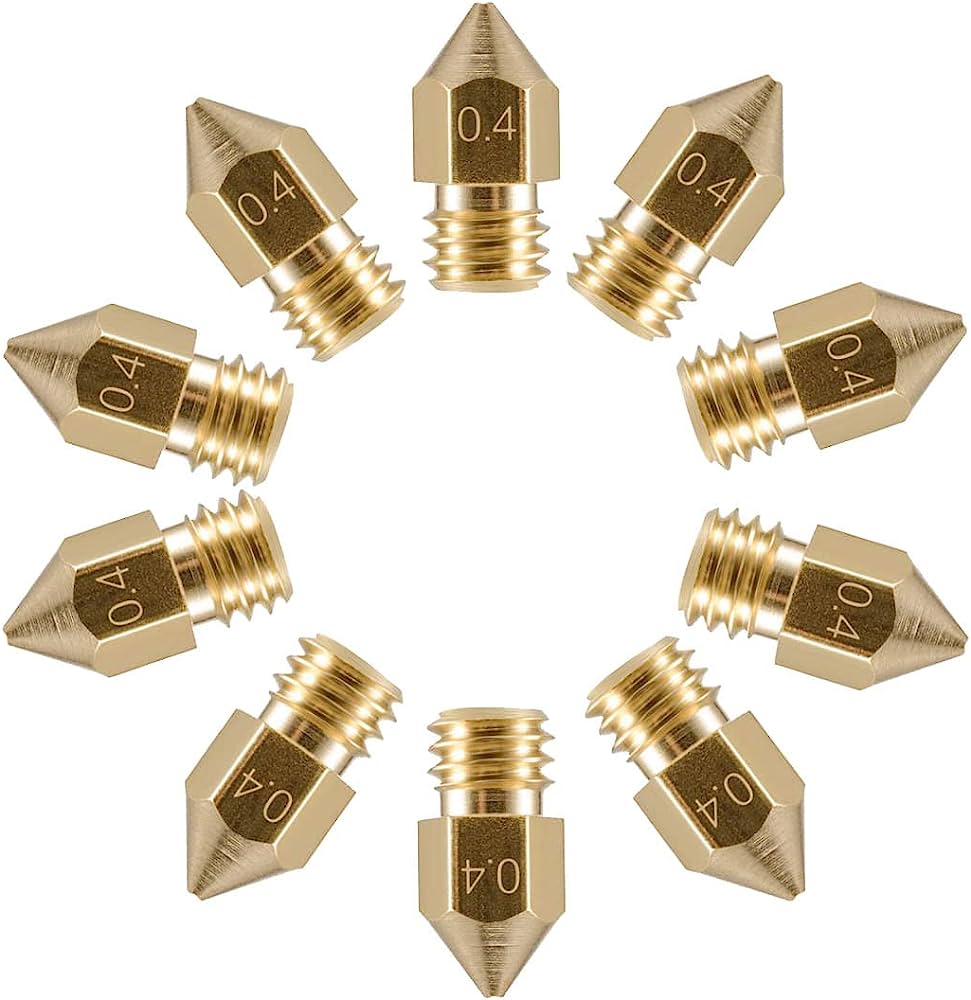 The MK8 Brass nozzle is compatible with all printers fitted with a MK8 heater block or equivalent (here are just a few) :
Creality Ender 2
Creality Ender 3
Creality Ender 3 Pro
Creality Ender 3 V2
Creality Ender 5
Creality Ender 5 Pro
Creality CR10 mini
Creality CR10
Creality CR10 S
Creality CR10 S 4
Creality CR10 S 5
Creality CR10 MAX
Creality CR 20
MakerBot Replicator 1
MakerBot Replicator 2
MakerBot Replicator 2X
MakerBot Replicator 5th
MakerBot Replicator Mini
MakerBot Replicator Mini +
CraftBot 2
CraftBot PLUS
Anet ET4
Anet E10
Anet E16
Anet A6
Anet A8
BQ Hephestos
BQ Hephestos 2
BQ Witbox
Tevo Tornado​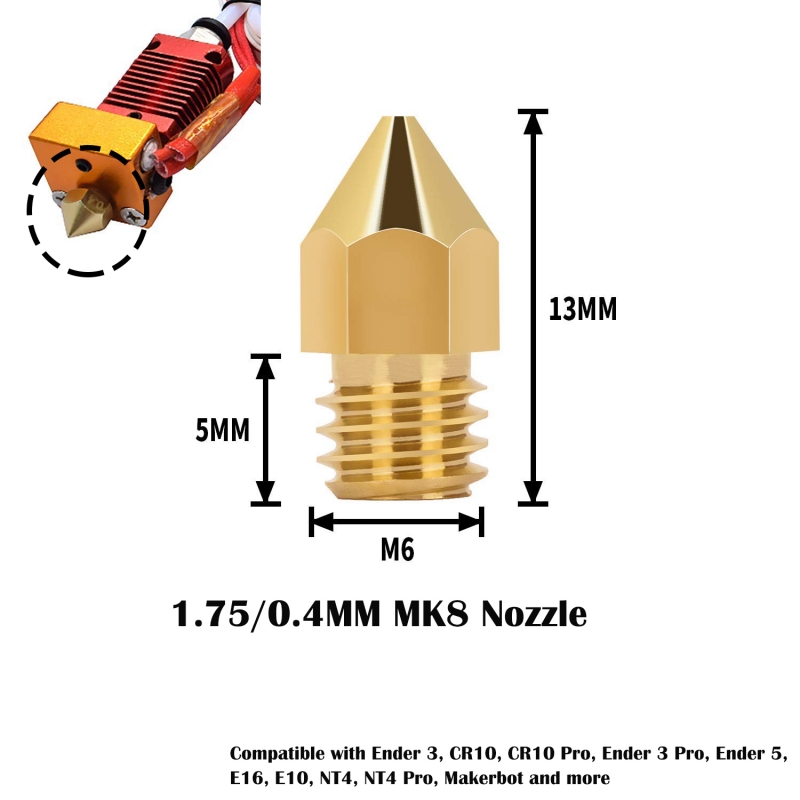 It is recommended to change the nozzle every 3-6 months to avoid poor print quality.
(48146)
| | |
| --- | --- |
| SKU | 48146 |
| Shipping Weight | 0.0100kg |
| Shipping Width | 0.010m |
| Shipping Height | 0.010m |
| Shipping Length | 0.010m |
| Shipping Cubic | 0.000001000m3 |
Be The First To Review This Product!
Help other 3DPrintergear users shop smarter by writing reviews for products you have purchased.