Prusa Powder-Coated PA Nylon Spring Steel Sheet
Suits original Prusa i3 MK3/S/+ and MK2.5/S
Reseller, Corporate or Goverment Buyer?
Government and Education
3DPrintergear has been supplying government organisations with 3D printers, services and support since 2012. As an approved government customer you will automatically be entitled to 30-day terms with an official purchase order.
If you would like to create an account, please contact us on 1300 334 327, or at admin@3dprintergear.com.au
Resellers
Want to become a reseller?
3DPrintergear offers special pricing to genuine resellers. Once your application is approved, your new buying prices will be shown on our website after you login. To apply for a resellers account please contact us at admin@3dprintergear.com.au
---
$10 Flat Rate Shipping - $10.00
Your order will be shipped by the most economical option, with online tracking. Delivery is usually 2-7 business days.
---
TNT/DHL - Next Day Express Domestic - $10.00
1 day delivery! Please note Business address only. Residential addresses will incur a fee.
---
Free pick-up from store - FREE
Free pick-up from '781 High St, Reservoir VIC 3073', between 9am and 5pm
Express Dispatch
Australian Owned & Operated
Money Back Guarantee
Quality Assured Products
Prusa Double-sided Powder-coated PA Nylon Spring Steel Sheet Australia
Suitable for nylon PA12, PA11 and carbon fibre variants
This print sheet is specially designed to print polyamide-based filaments, especially the PA11 or Carbon Fibre variants. The PA11-type materials have generally a lower adhesion on textured or satin print sheets. This sheet has a special surface finish that increases the adhesion and is perfect for Prusament PA11.
You can learn more about the Double-sided Powder-coated PA Nylon Spring Steel Sheet in our knowledgebase.
The Original Prusa magnetic heatbed is designed to hold a removable double-sided flexible spring-steel sheet, designed specifically for easy removal of printed objects from the print surface.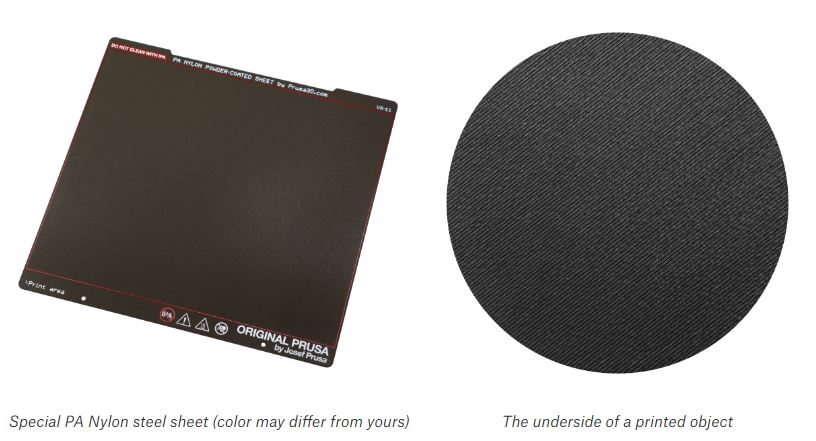 The special PA Nylon sheet is made for printing polyamides (Nylon) since their adhesion to standard PEI sheets is generally very poor. The sheet comes with a matt texture, similar to the satin steel sheet with a PEI surface. The sheet is compatible with most polyamides and PETG, other materials may have insufficient adhesion and should be printed on our standard PEI sheets.
Main attributes
Compatible with many types of polyamide

Made for printing without using a glue stick and other means of increasing adhesion

Slightly textured surface

Double-sided! Both sides can be used repeatedly

Easy maintenance and good adhesion qualities
Considerations
Never clean the special PA Nylon sheet with acetone, IPA (isopropyl alcohol), or other alcohol-based solvents (window cleaners, Windex, etc.)! This will damage the surface.

For easy print removal, wash the print surface with water before every printing.

Check the proper first layer height! If the Live Z value is too low and the first layer is too squeezed, print removal may be difficult and may damage the sheet.

PA Nylon sheet should be cleaned only with water and degreased with dish-washing soap!

Some types of polyamide may be prone to warping and require using brim or are suitable only for printing small parts and models with sparse infill.

Keep the sheet as clean as possible! Any grease stain will decrease adhesion.

Live Z value needs to be readjusted if you switch sheets.

Not scratch-resistant!!! Do not use metal spatulas with sharp edges to remove the prints. Be extremely careful when removing the print.

Small PETG prints may require a brim.
Consumable parts, such as print sheets (satin, smooth, textured, etc.) are not covered by warranty as the coatings will diminish over time. Unless failure has occurred due to a defect in materials or workmanship, cosmetic damage, including but not limited to scratches, dents, cracks, or other cosmetic damage is also not covered by the warranty. Only defective sheets on arrival are covered by warranty.
Maintenance
Wash the print surface before every print with clean water (use a wet cloth or sponge…), then dry it. Greasy stains, such as fingerprints, can be cleaned with water with dishwashing soap.

Never use anything to clean PA Nylon steel sheet but water (with a drop of dish-washing soap)! Unlike the PEI sheets, the PA Nylon sheet must not come in contact with alcohol-based solvents (IPA, Ethyl alcohol, etc.), Acetone, window cleaners, 3DLAC, etc. Using any unrecommended solvents leads to a shorter sheet lifespan and risk of damaging the surface!

Some types of paper towels may leave traces on the sheet (fibre pieces).
Prints don't stick
If your print surface is perfectly clean and all grease has been removed by wiping it with a paper towel soaked in water and dish-washing soap, the first layer height is set properly and the print won't stick.
Keep in mind that polyamides in general tend to warp more than other materials. Sometimes warping may be so strong that larger models (or with dense infill) detach from the surface even over the best surface adhesion. If you experience such strong warping, we recommend using another type of PA for selected print - for example, our Prusament PA11 Carbon Fiber shows almost no warping at all. You can find more in the articles about polyamide and warping.
PA Nylon print sheet has a special surface layer with smooth texture and matt looks. The surface layer is partially translucent and may show a specific "texture" of lengthwise or diagonal lines, or varying color shades. These color variations are characteristic for material under the topmost layer and don't affect sheet performance.
As a result of the temperatures to which the plate is exposed during printing, its surface gradually becomes glossier or may develop smaller, duller areas. This visual change does not adversely affect the printing properties and is not considered a reason for a warranty claim.
WARNING:
Never clean the Satin powder-coated spring steel sheet with acetone! Doing so will create microfractures in the texture, which will make the surface deteriorate over time.

(47608_PA)
| | |
| --- | --- |
| SKU | 47608_PA |
| Brand | Prusa |
| Shipping Weight | 0.4000kg |
| Shipping Width | 0.250m |
| Shipping Height | 0.010m |
| Shipping Length | 0.250m |
| Shipping Cubic | 0.000625000m3 |
Be The First To Review This Product!
Help other 3DPrintergear users shop smarter by writing reviews for products you have purchased.